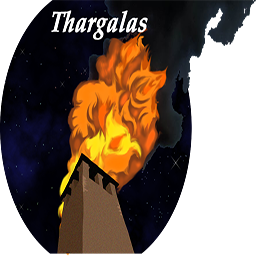 Thargalas
A downloadable game for Windows
Welcome in Thargalas.
Long Story Short:
After the Royal family disappeared a few month ago, the Country has get Problems.
The Villagers are frightened , Mercenarys, Thiefs and Enemy Groups are in the Center of Thargalas.
You and your Friends tryed to help but without succes.
You were captured and your Friends escaped!
After some Time in the Prison Tower, some Angry Villagers stormed to let their anger out and you could escape.
Now you are in Marthy River to find the first of your Friend.
What can you do in this Game?
You can loot to craft over 50 Recipes
Fight some Monsters in Caves and Woods
Talk to the Different Villagers Use the Open Bath to get your Energy Back
Learn Alchemy, Cooking and smithing.
You need to eat and to rest or you will loose consciousness
What do i plan with the Game, upcoming things?


A small Relationship System, get the Towns on your side (with the friendly way or the bad way)
Picture Book (Collecting Pictures for the Towns, Woods, People, and more you have visited)
At leat 2 or 3 minigames like Card games, Dice Games.
4 more Towns, 3 more Villages, 4 little Dungeons and 2 big ones.